Epsilon Eridani b



Diameter

91,894 miles

Distance

460,000,000 miles

Gender

Male

Age

14

Temperature

-231°F

Moons

2

Rings

63

Type

Huge Cold Gas Giant

Mass

317.96 times Earth

Rotation

10 hours and 17 minutes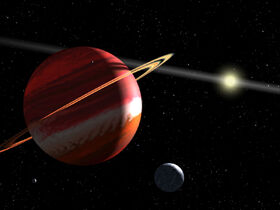 This is an unconfirmed planet.
Discovery date
Edit
Discoverer
Edit
Characteristics
Edit
About the exoplanet
Edit
References
Edit
[[Category:Unconfirmed planets]
Ad blocker interference detected!
Wikia is a free-to-use site that makes money from advertising. We have a modified experience for viewers using ad blockers

Wikia is not accessible if you've made further modifications. Remove the custom ad blocker rule(s) and the page will load as expected.